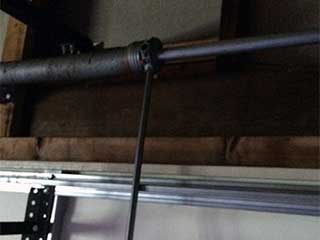 Garage door springs are an essential part of your mechanism. They ensure that the system is properly weighted and balanced and that it is safe to use without worrying about it falling on you. Even though they are some of the most important parts of the mechanism, their maintenance is often overlooked by the door owners. Unfortunately, when these units fail, they can cause serious damage to the panels, and worse, they may even injure the person trying to use the door. That is why we here at Garage Door Repair Woodstock are dedicated to providing same day emergency services that can help ensure that local homeowners stay safe when their garage door springs break.
Installing New Units
Your garage door will either require two working extension springs to keep it properly balanced and safe to use or at least a single torsion unit. Both of these types are used today, but each one can be a better fit for different door types and for different garages, as they require different backroom and headroom space in order to be installed. The task of setting new units up can be very dangerous, as it involves dealing with a large amount of tension, and mishandling this job can cause serious injuries.
Broken Spring Repair
A broken unit or one that is in danger of failing could pose a safety risk to you or any of your family members that want to use the door. Because the system relies on these components to support and counterbalance the weight of the panels, it will most likely be impossible for you to be able to open the door while a spring is broken. It's important that you inspect the condition of these units every now and again to catch potential failure early. If you notice any rust, galvanic corrosion or stress marks such as cracks and malformations, then having the springs repaired or replaced by a professional technician should be your top priority. If you are looking for someone to assist you with extension or torsion spring replacement, be sure to contact our team.
The Right Maintenance
Routine maintenance is needed to ensure that your springs keep working reliably for a long time. Regular inspections and lubrication are very important, as are balance tests, that will let you know whether or not the tension needs to be adjusted. Our garage door maintenance service incorporates these tasks and a lot of additional ones that are designed to help you get the most out of your door.
Looking For Something Stronger?
For heavy duty garage doors, standard springs might not offer the lifespan and functionality that they need. If you are looking for a stronger solution that will outlast average units, speak to one of our technicians about having oil tempered or galvanized torsion springs installed. They are stronger, last longer and are a far safer option.
Give Us a Call Today
If you experience any type of issue with your garage door springs, our team will gladly come over and fix the problem for you. These units require special tools and professional training to handle, so you're far safer letting one of our experts handle things than trying the DIY approach.
Need more? We also provide:

Bent Garage Door Track Repair

Garage Door Remote Clickers

Roll up Garage Door Maintenance

Galvanized Torsion Spring Installation