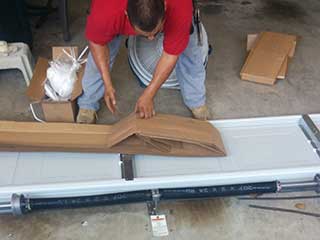 If some part of your garage door suddenly broke or started failing for whatever reason, you'll need to have a professional come over, take a look and then fix the problem. Trying to handle things yourself can be very dangerous. Even if you don't end up getting hurt, you could cause more harm than good, and your door may need more complex repairs as a result. Rather than risking injury and having to spend more money needlessly, just let our experts deal with the problem as soon as you encounter it.
Problems With The Springs
Because these parts are under a lot of tension on a regular basis, the wear and tear they go through is bound to cause them to break eventually. Garage door spring repair is not something you should try to complete on your own, as it can be incredibly dangerous to deal with these components, especially when they need to become loaded with tension. Our technicians have a great deal of experience and skill, and know exactly how to safely handle problems of this sort with speed and efficiency.
Opener Motor Repair
Your automatic garage door needs its motor unit to function flawlessly day in and day out, and when it fails to do so, things can get inconvenient pretty quickly. Opener problems can be the result of many different things, including electrical glitches with the circuit board or remote control programming issues. They can also occur due to mechanical malfunctions, either with the rail and trolley, or with the unit's motor. The gears can wear out or break, at which point the opener won't be able to generate any horsepower, and it will be impossible for it to move your door.
Bent Tracks and Damaged Panels
Sometimes, the hardware parts of the mechanism can also pick up some dings and dents. This can easily result in your door getting off track, or its external panels losing their curb appeal. Trust our technicians to be able to not only repair the damage, but to also replace the affected part should the problem prove to be severe.
Our Experts Are Here To Help
Remember, most garage door problems are too dangerous for you to attempt to handle them on your own. Let our experts at Garage Door Repair Woodstock take care of everything for you safely and quickly.
In addition, count on us for:

Torsion Spring Adjustment

Genie Garage Door Openers

Overhead Door Repair & Installation

Maintenance Garage Door Torsion Spring