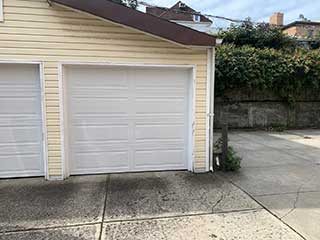 Nobody likes having to deal with garage door malfunctions, especially when you don't have time for them, like when you're in a hurry to get to work or when you're exhausted after a long day. That's why making sure the mechanism and all of its different parts are well cared for is incredibly beneficial. Let our team take this worry off your hands with our professional maintenance appointments.
Several Different Focus Points
During each maintenance visit, our technicians will dedicate time to treat and inspect all of the mechanism's different parts. This helps us ensure that there are no underlying problems waiting to surprise you, and that everything is working as efficiently as possible.
Your Springs Could Use a Break
These are probably the hardest working units in the entire system, and because they're under so much tension on a regular basis, they will grow weak over time. That's why the door's balance should be checked periodically, and the necessary spring adjustment should then be performed. This will help lower some of the strain on these units, and ensure that they're not getting ready to break and bring your door crashing down.
Keep Noise To a Minimum
Garage doors are naturally noisy, and even if you have a belt drive opener installed, there will still be some grinding sounds coming from the different moving metal parts. That's why lubrication maintenance is so important. Not only will it significantly lower the door's noise level, it will also reduce the friction between the different parts, which is the number one cause of wear and tear.
Why Waste Money?
You could just wait for things to go wrong and then deal with them, thus spending more money on repairs that, more often than not, could have been prevented. Just get in touch with our experts at Garage Door Repair Woodstock and we'll make sure your automatic door is in the best shape it can be for as long as possible.
Count on us when it comes to:

Door Level Alignment

Belt Drive Opener Installation

LiftMaster Chain Drive Lubrication

Garage Door Extension Spring Replacement